Did you know that 85% of shoppers consider color the most important factor of whether they are going to buy a product or not? And the logo colors are an integral part of that decision (plus it can increase the brand recognition up to 80%, which can help you rise above the competition.
The first impression your brand, product, or service makes will also be formed largely by the logo colors (from 62% to 90%, depending on the customer).
Logos rule the world. These tiny bits of design are embedded so deeply into our thinking that they reflexively trigger all kinds of associations marketing gurus want us to experience. If there's so much to be gained just by creating a great corporate logo, why aren't you doing the same for your startup?
All of the famous logos have a couple of things in common—for the most part, they're simple, and they use the the best logo colors, in the right way.
When it comes to the form, there's no a "one size fits all" solution. Fantasize, draw sketches, get wild, as even the craziest idea might be a hit. The choice of the perfect color combination, on the other hand, is one aspect of design that science can help you with. It's called color psychology.
Choosing the Best Logo Colors: What is Color Psychology?
Color psychology (you guessed it!) is a study of hues and their influence on human behavior. It's one of the key pillars of branding and marketing, and if you dig into color psychology, it really can help you attract more customers with your company's logo.
Color psychology has a deep history, and studies today are more intense than ever, as human perception of color helps major corporations cash in. The rules of color psychology haven't actually changed, and anyone can use them. This post has gathered the most simple-yet-effective recommendations that will help your startup attract the right audience and win customers' hearts.
How Colors Influence Perception of Your Brand
No doubt, logo design is an exercise in imagination, and there's no out-of-the-box solution that will fit every startup's needs. However, there are some consistent patterns that work when it comes to color psychology and choosing the best logo colors.
So how not to make the greatest mistake of your business life when choosing colors for your logo? Following the market leaders may not be a bad idea. The most common colors used in the logos of top 100 most valuable brands are in descending order, blue, red, black/grey/silver, and yellow/gold.
Minimalism also seems to be effective. Ninety-five percent of brands use not more than two colors in their logos and only 5% use three or more. Think of such simple logos as Oreo, WWF, Facebook, Intel, Home Depot, and thousands of others. Sure, there are many examples of valuable multi-colored logos like Google, Pepsi, Microsoft, Mastercard or eBay. However, the overwhelming majority of successful brands keep it simple.
And when it comes to incorporating your company's name in the logo, you can go either way: 9% of the world's brands don't include the name at all, 41% use only text, and 50% combine both text and image. So you definitely can let your imagination soar and follow your instincts with this one.
Positive and Negative Connotations
Every color is a double-edged sword, which can both help and harm your brand. The thing is, all of the associations evoked by colors can be either positive or negative. Of course, some negative connotations can also be successfully used in branding and marketing (remember the "Poison" perfume by Christian Dior and its strange green blackish color?), but it's always a risky choice, and new entrepreneurs best avoid experimenting with negative color associations.
You might think the best logo colors such are white, orange, or yellow because they don't have negative connotations—they aren't dark, depressing, or associated with violence. Unfortunately, that's not how our minds work, and every single color has a "good" and a "bad" side to it.
Another thing you should take into consideration is cultural context. A color associated with something positive in the United States may mean something negative in Africa or Asia. So if you're planning to launch an international startup, double check your color choice.
Here are the positive and negative connotations associated with each color. Take them into consideration when figuring out the best logo colors for your startup. Remember, great design is half the battle when it comes to building a startup!
White
White is the symbol of purity, innocence, cleanness, sterility, hygiene, and simplicity. This color is associated with everything new and fresh. Reflecting the light, a vast amount of white can be difficult to look at over long periods of time. However, white is a great way to make other colors in your logo more vibrant and perceptible.
In many countries, white is a color of weddings. However, in Asia (India, Korea, China) it is traditionally associated with funerals and mourning.
The "germ-proof" feeling, which a lot of white may signal, can have both positive and negative connotations. So be careful using white if you're trying to create an approachable brand. The best way to avoid negative connotations is to mix white with other colors like many brands do. Think of Nintendo (white + red), Swarovski (white swan + blue or black as a background color), Milka (purple + violet) and others.
White is all about peace, concentration, freedom. It emphasizes the cleanness and sterility of products or services (that's why it is popular in the healthcare industry), accentuates the "perfect simplicity" (especially when it comes to technology), and is good for luxury products.
Consider using it forhealthcare products, fashion, baby care products, IT. But try to avoid it if your startup is close to energy, finance, or agriculture.
Silver
Silver is the color of virtue, purity, sleekness, wealth, grace, and elegance. It has a metallic feeling to it, which is a great descriptor of everything high-end, industrial, and technology-related. It points out the high quality of the product and the company's fidelity to state-of-the-art technologies, and adds a luxurious-yet-conservative vibe.
On the other hand, silver can be associated with the bladed weapon and going on the warpath.
The silver details on your logo may be a great way to emphasize the sophistication and the classy side of your brand. No wonder so many car brands use it (Toyota, Mercedes-Benz, Honda, and Citroen).
Besides transportation, silver works for IT, fashion, finance, and equipment industries, but can harm food brands, agriculture-related startups, and companies producing baby care products. These industries should choose more vibrant and approachable colors like orange or yellow.
Yellow & Gold
Yellow stands for optimism, confidence, self-esteem, happiness, encouragement, and amusement. This color also has even stronger positive connotations in Asian countries. For example, in China it's the color of royalty, and in Japan it represents courage.
Nevertheless, yellow isn't a "crowd favorite" when it comes to Western countries. It may evoke associations with jealousy, cowardice, fear, anxiety, and even insanity. In Russia, for instance, there's a colloquial expression "yellow house," which is a synonym for an asylum.
Yellow in your logo colors is an attention grabber. But be careful and don't overuse it, as too much can cause fatigue.
Yellow grabs a customer's attention and can provoke impulse shopping. Its cheerfulness and "feel good" vibe can help strengthen a positive brand image. Think of McDonald's, Chupa Chups, or Subway. Nikon, Bic, and Ferrari also have chosen yellow and succeeded.
Yellow's positive connotations can serve logos in the entertainment industry, baby care products, leisure, sports, energy, and food startups. But it's not powerful enough for luxury, finance, IT, and fashion brands.
Nothing says "expensive" more than gold. It's the color of wealth, victory, wisdom, royalty, prosperity, glamour, luxury, and prestige. The warmth of gold irradiates everything around it. But don't get wires crossed when it comes to yellow and gold (pure yellow has a #FFFF00 color code and gold has #FFD700). The golden hues have some red or brown in them, which gives them power that pure yellow doesn't.
The color is traditionally used for superior, one-of-a-kind, high-quality products. It creates a nice separation, emphasizing that the product (or a service) is not for all, only for the chosen ones, for the elite. That's why it works so well for luxury brands, finance, food, beauty, and fashion-related companies. The most famous gold logos include Cadbury, Chevrolet, Warner Bros., and 20th Century Fox.
It may seem like such a nice positive color couldn't have any negative connotations, but it's not the case. The excessive use of gold can make your brand seem authoritarian, self-absorbed, greedy, somber, and opportunistic. So be careful with gold if you're running a business in IT, equipment production, or healthcare industries.
While creating a logo you can always play with the shades of gold to fit your brand identity. The brighter metallic shades will help to catch the customer's eye. The muted hues will emphasize the traditionalism.
Orange
Orange is associated with fun, energy, warmth, enthusiasm, sensuality, comfort, creativity, youth, and heat. It increases energy and enhances mood. This color is a direct call to action, which provokes impulse purchases, represents a friendly, approachable brand.
It's a perfect choice for entertainment (Nickelodeon), family products, and food (Fanta, Dunkin' Donuts), baby care products, pharmaceuticals. Use orange if you want your logo to be noticeable and energetic (Firefox, Hermes, Timberland). But always remember the balance and even the orange out with some neutral colors.
In many Asian countries, orange is a color that triggers associations with religion (especially Buddhism and Hinduism).
Orange can also be considered frivolous and immature, overbearing and arrogant, in-your-face and too risky, which isn't great for any customer-oriented brand (especially when you're working in energy, transport, or finance).
Red
Red is one of the most popular and controversial colors. It represents power and energy, strength and excitement, passion and life, courage and love, celebration and seduction.
Red is also about war and blood, conflict and aggression, lust and defiance, anger and hatred, wrath and stress.
The connotations of red also vary depending on the country. In Asia it's usually a color of weddings. It symbolizes fortune, happiness, and fertility. In some African countries, on the other hand, red is a color of death and mourning.
Using red to catch the eye is a classic marketing trick. It stimulates impulsive shoppers by creating urgency, boosts hunger, brings customers' attentions to the most important parts of the product, and invites them to take physical action.
You can certainly use it on your logo (especially if you're striving to build an image of a successful modern market leader). The combinations of red and white or red and yellow are the classics. The red/white combo is used by Coca-Cola, KFC, Levi's, Canon, Lays, and Kit Kat. The red/yellow combo can be found in Red Bull's and McDonald's logos.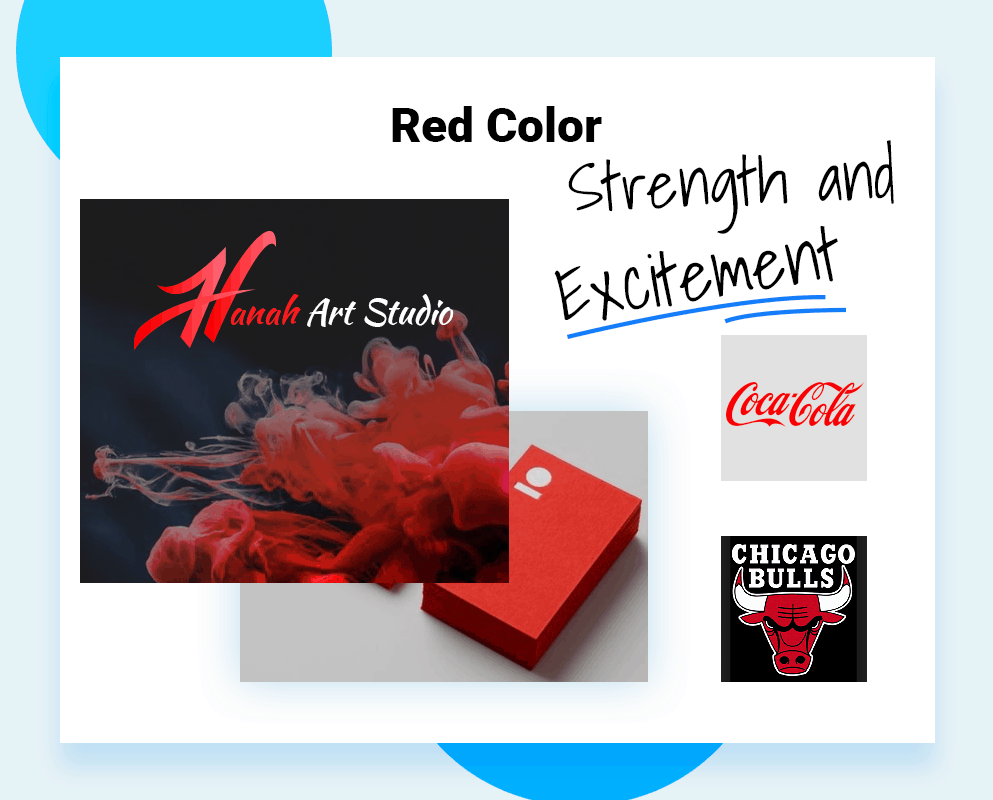 Red is often used in sports (FC Bayern, FC Liverpool, Arizona Cardinals, Chicago Bulls), food, transport, and retail. However, try to avoid it if your startup produces baby care products, or provides energy or financial services, as red is too aggressive for those industries.
Pink
The most common associations with pink include femininity, love, sexuality, nurture, tenderness, romance, hope and inspiration, sweetness and innocence. It's a calming, reassuring, and comforting color, which is often associated with childhood or a dreamy, fantasy side of life.
In Japanese culture, pink is a traditional color of spring (it matches the blossoming sakura).
No wonder pink is usuallyused to evoke associations with sweetness and pleasure. It's often used to brand products and services targeting women, and resonates with traditional shoppers.
Pink isn't the most popular color when it comes to logos. That's why you may use it as a way to stand out from the competition. Especially if you lean toward family or baby care products (remember Barbie's logo, right?), food (Baskin Robbins), leisure, beauty (Cosmopolitan).
But if your business lies in the IT, finance, transport, or energy arenas, experiments with pink can go wrong, as the typical negative connotations for pink are immaturity, naivete, lack of will, and physical weakness.
If the positive connotations of pink fit your brand identity you definitely should consider it for your logo. To make it look more elegant and sophisticated, mix it with darker colors like black, grey or dark blue.
Green
The easiest color on human eyes is green. It's also the color our eyes are most sensitive to (we can discern the most shades of the green palette). That's why green is an international color of relaxation, nature, and peace. Green is all about harmony, rest, equilibrium. In some ways, it's a color of wealth (it is the color of money, after all) but this connotation is weaker than, let's say, gold.
For the most part, the positive connotations of green aren't so good for marketing. Green is peaceful and safe but it's not encouraging to the customer, not calling to action. Moreover, a vast amount of green may seem dull, stagnating, depressing.
However,using green is still the easiest way to create an image of an eco-friendly company. This color also appeals to the shoppers on a budget and is perfect for promoting healthy products. No wonder agriculture, healthcare, finance, family, baby care, energy, and food industries all use tons of green. There's a whole bunch of insanely famous green logos! Starbucks, Android, Heineken, Land Rover, Jaffa, John Deere… The list goes on and on.
Despite all that glory, green is too weak fortransport, fashion, or leisure. The companies working in those industries need more powerful colors in their logos.
If you want to experiment with green in your logo try to mix it with more active colors like yellow, white, or silver.
Blue
According to multiple surveys, blue is a favorite color among both Americans and Europeans. It's a color of calm, control, logic, honesty, intelligence, security, purity, freedom, and confidence. Blue in the company's logo helps to establish trust-based relations, it makes the brand more credible, gives the logo a professional and serious vibe.
The blue logos look trustworthy and professional and are often used by major corporations like Twitter, Skype, Ford, Dell, IBM, Visa, or Samsung.
Blue is an obvious and safe choice forfinance, IT, equipment, healthcare, energy, and transport industries. Its positive connotations work perfectly to create a strong image for such companies. On the other hand, blue is too serious and mundane for fashion, luxury, food, and beauty-related startups, as the negative feelings blue triggers include coldness and disaffection, rigidity, depression, and predictability.
Violet
Violet (or purple) is a traditional color of royalty and spirituality. It triggers associations with creativity, extravagance, fantasy, sophistication, mystery, calm, luxury, high quality, and independence.
Purple is a "young" color. Customers ages 18-25 see it as rebellious, mysterious, and sexy. The older audience usually connects purple with darker associations like aloofness, decadence, impracticality, and suppression.
The great thing about violet is that even a small amount of this color in your logo can make your products look and feel luxurious (especially when violet is combined with gold). Purple is also perfect for any kind of packaging, so you should definitely think of incorporating it into your brand palette.
Like pink, violet is an underappreciated color in modern logo design. Not many companies tend to use it. But those who do often find their place in the sun. Think of Yahoo, Taco Bell, Twitch, Wonka, Viber, Benq. Those logos are unique and eye-catching. What more could you want?
Being a color of youth and innovation, violet will elevate beauty, equipment, IT, and healthcare brands. But if you plan to establish agriculture, fashion, or transport business, be careful with violet.
Brown
As the color of earth and wood, brown embodies everything practical, stable, down-to-earth, conservative, and reliable. Brown gives support and comfort. It's the color of strength, maturity, and safety. Sometimes it can replace green as a symbol of eco-awareness or organic products.
Brown is good for agriculture, food, transport, and family products. Such brands as M&M's, UGG, Paulig, Hershey's, A&W made brown their own and, as we can see, it was a brilliant choice!
The most common negative connotations related to this color include dullness, cheapness, inactivity, depression, suffocation, rigidity. It won't work for leisure, finance, IT, or beauty brands. Moreover, the brown color is the least favorite for people in the US and Europe
However, brown can be effective in a logo if you want to reach out to the male segment of your audience (especially combined with sophisticated warm colors like gold or cream).
Grey
Grey is one of the most interesting colors if we're talking about creating a brand identity. On one hand, it's totally neutral and can be a great canvas to start with. It is associated with professionalism, conservatism, dignity, classics, stability, modesty.
On the other hand, grey represents the lack of color and can seem depressing, sad, boring, lifeless, or just plain ordinary.
Still, that "on the fence" feeling grey brings (neither warm nor cold, neither masculine nor feminine) is super comfortable to work with for any designer. Grey also has that magical power to strengthen the other colors. It illuminates the bright, light ones and calms down the stronger, darker colors.
Grey in your logo makes a startup look serious, professional, and credible. Just like silver, it has a "hi-tech" feeling to it. Being universal, grey can convey different messages depending on the other colors in the logo (which is good for rebranding).
Different shades of grey are traditionally used for finance, equipment, transport, and IT (Valmet, WordPress, and Sony Ericsson). But this color isn't super popular when it comes to beauty, baby care, food, leisure, entertainment, and retail brands. Despite that, some popular food and drink brands like Nestle and Grey Goose have managed to make grey work, proving the point that there are no super strict rules in logo design!
Black
Just as white is known for reflecting the light, black is a color that absorbs light. It's the symbol of efficiency and sophistication, prestige and power, elegance and luxury, control and protection, mystery and seduction. It is strong, serious, and authoritative, but at the same time can fee depressing, evil, cold, heavy, and pessimistic.
Black is a traditional color of grief and mourning in the most countries of Europe, North America, and Africa. No wonder it's almost never used for healthcare, baby care, family products, food, or finance.
Black is great to emphasize the luxurious side of your brand, make products look more expensive. It has that "not for all" attitude. That's why black is so popular in luxury, fashion, IT, and equipment industries. It can be seen on Adidas, Chanel, Schwarzkopf, Nike, D&G, and WWF logos.
If this color speaks to you, be sure to balance it with others, as "total black" may be perceived as unfriendly, and unapproachable.
Logo Color Schemes: The Cheat Sheet
Yep, there are 12 colors listed above, and remembering all the connotations and marketing tricks can be tough (especially if you've just discovered color psychology).
But fear not! There are some easy tips you can follow to create a killer logo that will blow your competitors away! Here we go:
Start with a black and white version of your logo. If these colors work for your business (fashion, luxury, IT, sports etc.), you can leave it at that. If it's not working, you can add color. Some brands even use different versions of logos depending on the occasion. For example, Nike may change the color of its famous "swoosh" depending on the shoes.
When choosing colors always keep your eye on a color wheel. It will be easier to find analog and complementary colors. Complementary colors are opposite on the color wheel. Analog colors are 3 neighboring colors on the wheel.
Analog colors
Complementary colors
Using analog colors (3 colors next to each other on the wheel) helps to create a nice matching feeling. It's better for the industries that require lower intensity, more gentle and tender vibe (baby care, family products, or beauty). Think of Mastercard's orange + red or John Deere's green + yellow combo as an example.
Complementary colors (opposites on the wheel) help to create the highest contrast. They "clash" and give the logo a dramatic look that grabs the customer's attention. It works perfectly for sports, retail, entertainment, or food industries. Think of the Los Angeles Olympic bid's purple and yellow logo or Firefox's orange and blue logo? That's how it works!
Monochromatic logos (using different hues of one color) are great if you want to accentuate the uniqueness of your brand, the sleekness and the sophistication of your product. Paypal rocks a monochromatic scheme with its navy blue + sky blue duo. You can do it too!
Want to be trendy? Check Pantone's color of the year and try to incorporate it into your logo colors. If your startup is artsy or creativity-related, customers will enjoy it. The color of 2018 is ultra violet!
Conclusion
Color psychology tells us a lot about how our minds work. It can really help to predict an audience's reaction and build a strong brand identity. Remember, color affects all of us. It's a powerful tool and it deserves to be treated the right way.
While you can use a logo maker tool to help you find the right logo for your startup, it's best if you think about this upfront before you get anything done. The tips shared above will help you with that.
By Foundr